Starting and running a business seems like a good idea right? Unfortunately, the fun ends when you find out that your sales are not improving or you notice that you have not made even a singles sale, this is very frustrating and disappointing.
Fortunately for you, there are proven ways in which you can increase your sales right from signing up for a merchant account through websites like Shareasale, or sign up for a third party marketing agency such as Optinmoster which will guarantee you an instant increase in sale, but hey! its not magic it needs some work from you.
In this article, I am going to show you how you can increase your sales through Optimoster which is compatible with WordPress also.
They do it primarily through the use of various opt-in forms and pop-ups. However, they do more than just pop-ups:
Marketers have access to multiple tools for testing on-page elements
They combine pop-up and split-testing features with a range of powerful functionalities, such as geo-targeting
Personalization based on historical data
Exit-Intent® Technology that knows when your visitor is about to leave and displays an appropriate message
Six Ways OptinMonster Increases Revenue
It leverages six core features specifically:
Reduce Cart Abandonment – Exit-intent popups and automated cart abandonment email sequences enable you to convert customers that would otherwise leave your site without making a purchase. It goes a step further by giving you the option to personalize these messages based on past orders, interests and previous behavior.

Grow Your Email List – The company provides a huge array of opt-in popups, banners and forms for boosting email signups. Split-testing features further improve the efficacy of these opt-in elements by giving you the ability to pinpoint the top performers.

Increase Sales Conversions – Personalization features enable you to automatically provide visitors with personalized messages, promotions and product suggestions.

Retarget Visitors On and Off-Site – This feature targets returning visitors with promotions and offers based on previous behavior. It's one of the easiest ways to optimize promotional materials. Off-site, email segmentation is a perfect way to send tailored offers to the parts of your customer base most likely to be responsive.

Increase Pageviews – Redirect customers to high-performing pages and promotions with simple, targeted "Yes/No" pop-ups.

Create On-Site Follow-Up Campaigns – This feature allows you to create on-site follow-up messages that engage customers when they're already interacting with your site. For example, upsell by automatically suggest related products when a customer adds an item to their basket or cross-sell by offering a low-cost tripwire (small purchase) straight after they've entered their email address.
Optinmoster retails at an affordable price of $9 per month which comes in with amazing features such as:
1. Create a Visually Stunning Offer
Choose a pre-built template designed for maximum conversions, or start from scratch with a blank canvas. Customize all the details with our easy to use drag-and-drop builder – no code needed.
They have over 65 pre-made templates that you can customize using simple drag and drop tools. Create mobile responsive pop-ups, targeted campaigns, and campaign triggers. Use one of their 26 animated effects (Monster Effects) or use their "blank canvas" to build a unique set of pop-ups and opt-in messages to convert visitors to buyers.
2. Targeting and Personalization for Greater Engagement
They offer powerful targeting and segmentation engine lets you show your perfect offer to the right people at the exact right time to skyrocket your website conversions.
Advanced page level targeting lets you segment your list by sending personalized messages based on customer behavior. You create custom display rules with dynamic text replacement to maximize engagement, conversions, and sales.
3. Test and Adjust in Real Time
Get all the stats you need to improve your lead generation strategy, then easily split test all your ideas to keep increasing conversions. This involves closely tracking any changes, along with split and multivariate testing. OptinMonster provides this functionality of testing and built-in conversion analytics. Access all data and conversion metrics in real-time from a single dashboard.
HOW TO GET STARTED WITH OPTINMOSTER.
Creating Your First Campaign
When it comes to lead generation software, the campaign creation process must be fast, easy, and frictionless. And it shouldn't take years of coding or design experience to build professional-looking campaigns in minutes.
Everything about OptinMonster is designed to make this process simple for you. First, they have over 50 pre-built templates for all your events, such as:
Ebook launches
Retail shopping discounts and coupons
Holiday sales
Flash sales
And much more…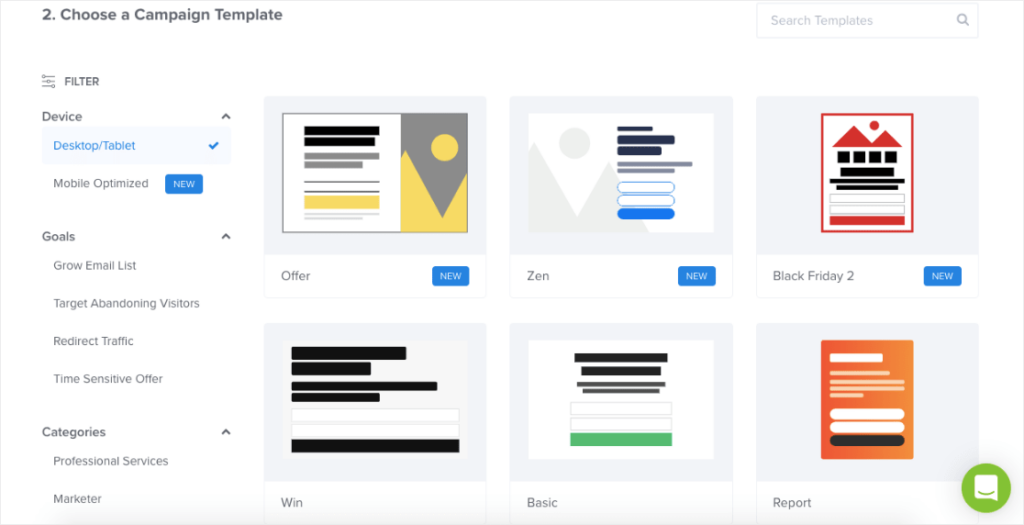 Plus, these templates can be filtered by device: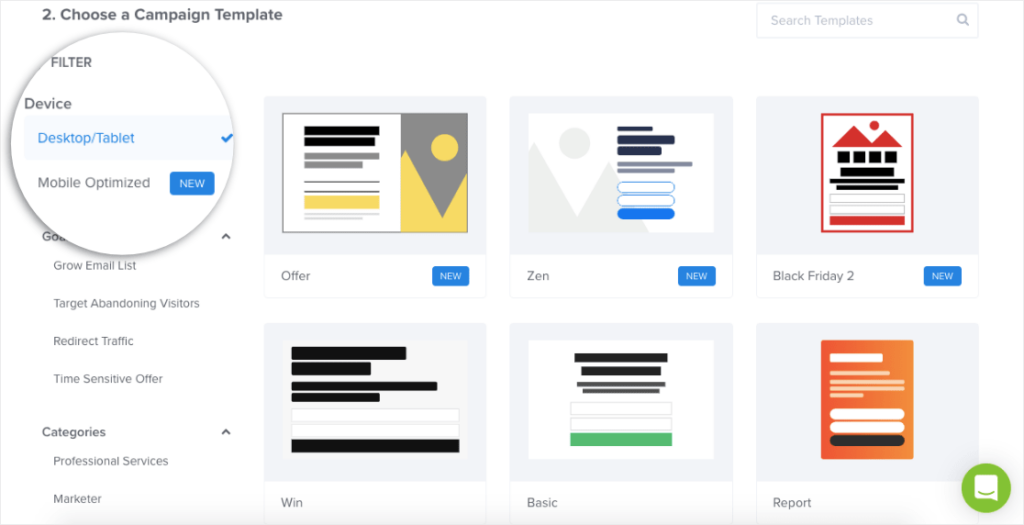 Or by goal: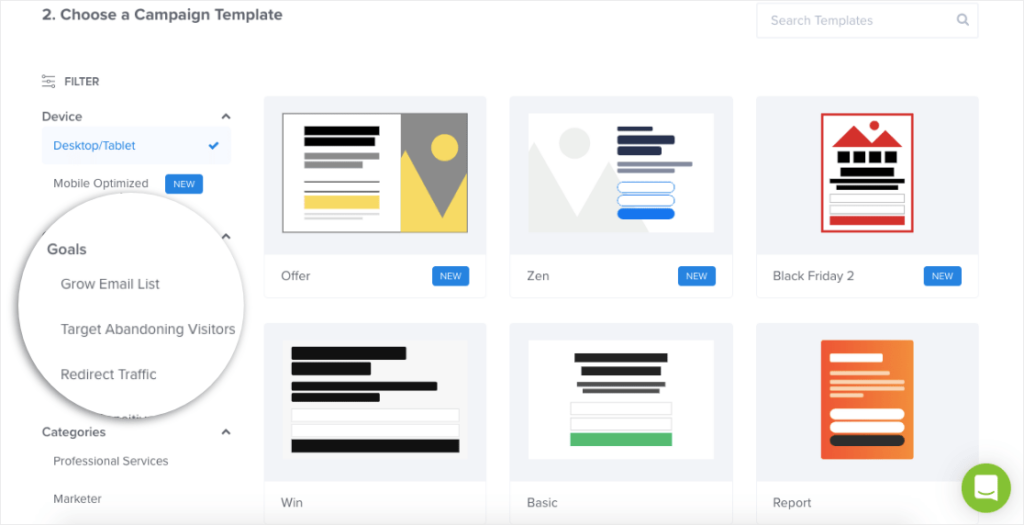 These templated options will save you hours of time, energy, and headaches as you build optin campaigns to generate more leads fast.
But if you want something 100% custom, that's no problem, either. You can use OptinMonster's Canvas template to create your campaign from scratch.
And with OptinMonster drag and drop builder and inline text editor, doing so is easy regardless of the template you go with.
First, all of OptinMonster's campaigns are created with element blocks or blocks for short. These blocks can be added or removed from any campaign and include features like:
Text
Images
Video
Buttons
Chatbots
And more…
To add any of these blocks to your template, you need to drag and drop them into place.
And if you want to modify any text, that can be done directly in the editor, as well. Just click on the text you want to modify, and you make any changes to your campaign's copy.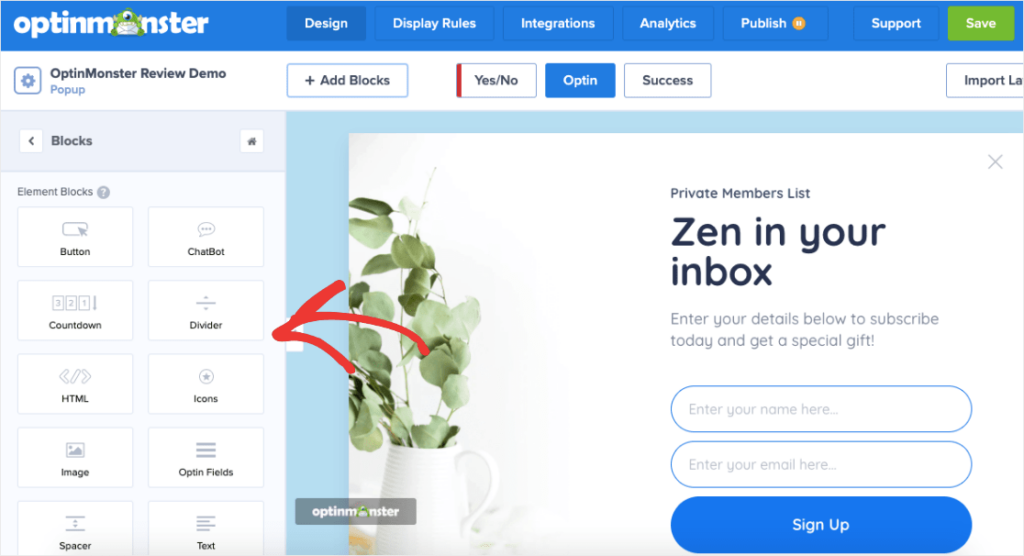 That means you can customize how you connect with your target audience to get the highest conversion rate possible.
But once you find the right words, you still need the right people to see the campaign. For that, you'll need to use OptinMonster's advanced display rules.
3. Advanced Display Rules
Creating a sleek and professional-looking optin campaign is only half the battle when it comes to getting more conversions. The other half shows it to the right people at just the right time in their customer journey.
And for that, you need powerful display rules.
Display rules are the configurations you make to each campaign that determine where, when, and to whom your campaign will appear on your site. These rules are broken down into 2 categories:
Targets rely on a user's demographic information to determine if your optin campaign will appear. These factors would be things like your user's:
Physical location
Browser device
Pages of interest
And more
Triggers, on the other hand, will make your campaigns appear based on your user's behavior. This would be things like when your user is active leaving the browser page or shopping cart (Exit-Intent®), which links they click (MonsterLink™), how far down the page they've scrolled (Scroll Trigger), and more.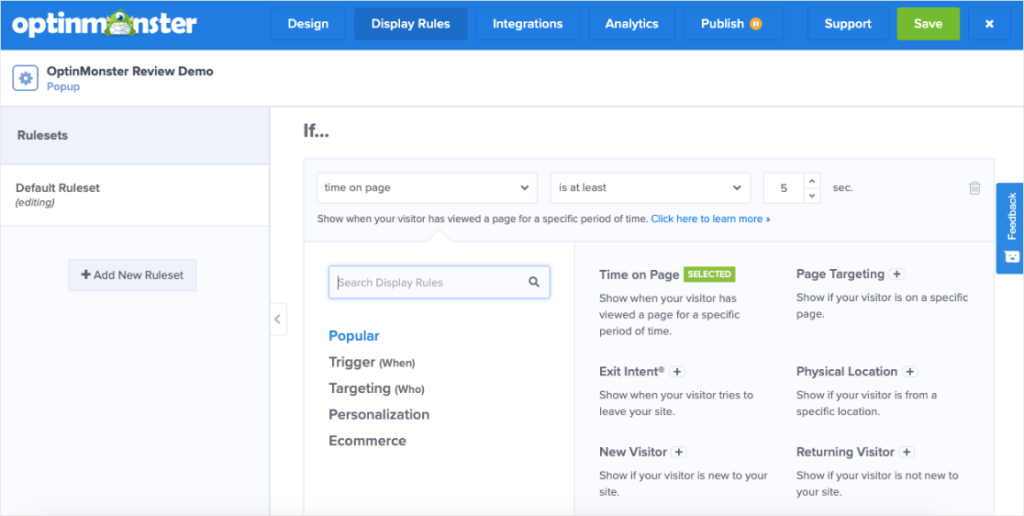 Having a wide variety of targets and triggers is essential for getting higher conversions. They allow you to build a deeper connection with your audience, personalize your messaging, and make highly targeted offers.
For example, you run an online clothing store. And you currently have a sale on women's belts.
You'd need a lead generation software like OptinMonster that gives you the ability to show a targeted campaign specifically to women who are interested in your jeans. That way, you can cross-sell the belts that you're promoting.
So you take a few minutes and build a campaign that looks like this: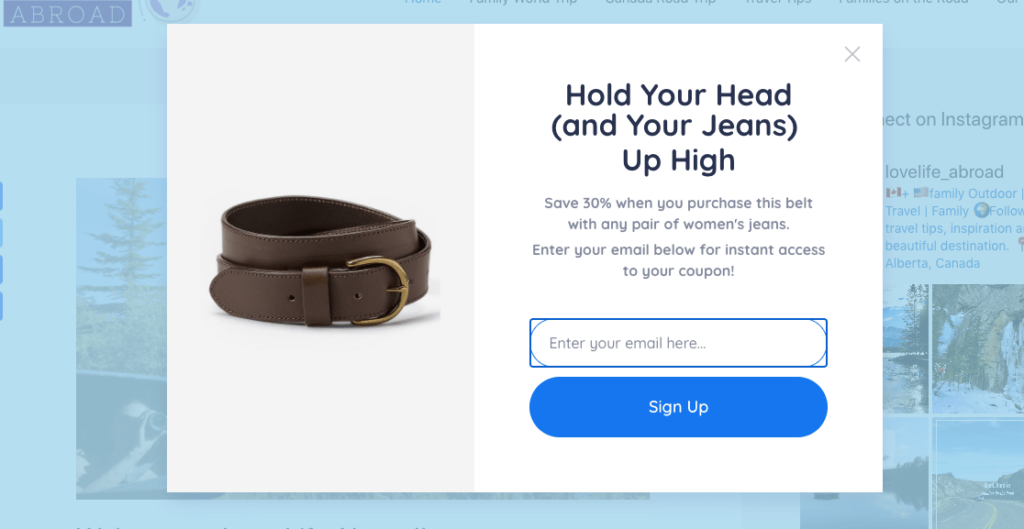 Then you set a display rule to make that campaign appear on all product pages promoting women's jeans. Cool, right?
Ok, but let's take it a step further.
You also create a trigger for your campaign to appear whenever a customer adds a pair of jeans to their shopping cart. And you create an exit-intent popup specifically for that shopping cart to make one last offer to users who are abandoning their cart.
Now you know that your campaign will be seen by someone who has a high interest (or at least some need) for a woman's belt. Plus, you have a system in place to reduce cart abandonment in your store to increase your overall revenue.
This gives your user more of the products they love (improving UX) and leads to higher sales for you.
This was just one example of how the right display rules can be used to boost your bottom line. As you can imagine, there are many others.
But what's great about OptinMonster is that they give you more advanced display rules than any other software on the market. That means you'll have more ways to connect with your audience, improve their experience on your website, and get as many conversions as possible.
And to be extra sure that you aren't leaving any conversions on the table, OptinMonster provides you with 2 powerful features: detailed analytics and A/B testing.
4. Detailed Analytics and Easy A/B Testing
When you're trying to decide if a campaign is working or not, there should be zero guesswork involved.
That's why we enjoy OptinMonster's easily digestible analytics reports.
Right from your OptinMonster dashboard, you'll get a quick overview of your campaigns, how many people have viewed the campaign, your conversion percentage rate, and how many new leads you've collected: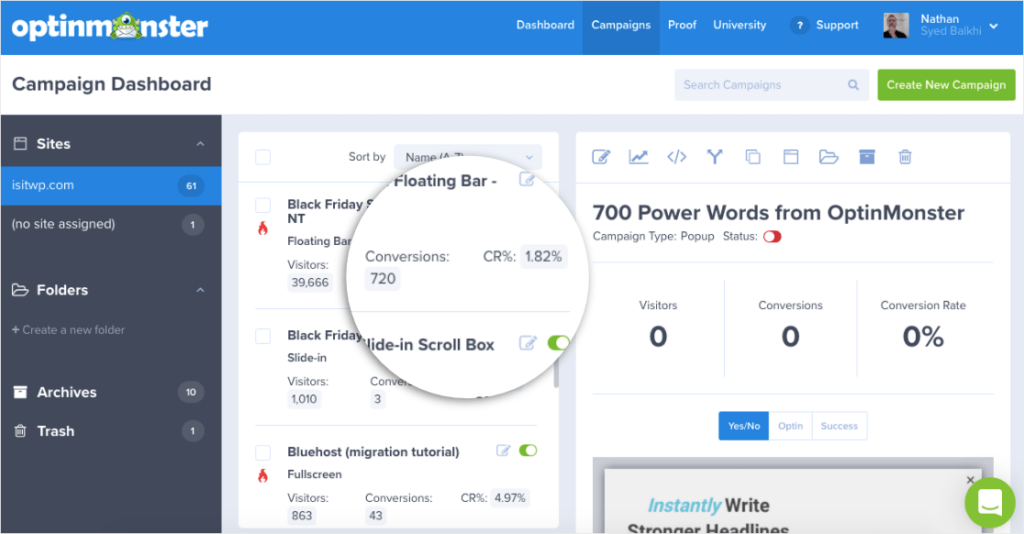 This will let you know if your optin campaign is performing above or below your expectations.
But what do you do when you have a campaign that you know should be converting but isn't bringing in as many leads as you'd expected?
For that, you need the ability to run A/B tests quickly.
OptinMonster lets you easily start running A/B tests for all of your campaigns. And the best part is, you don't need to have any tech experience or be a professional statistician to do it.
Instead, you can click the Split Test icon from your OptinMonster dashboard: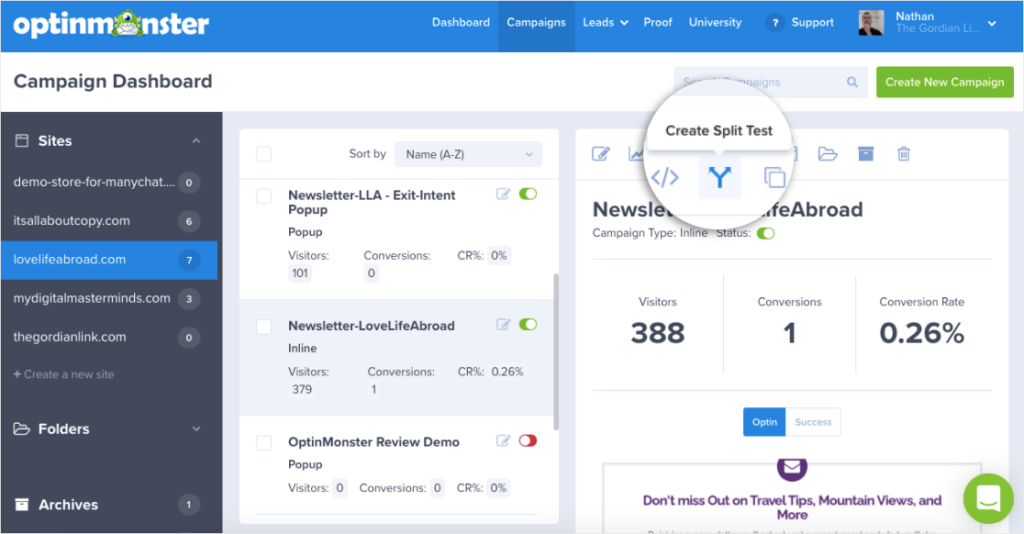 This will create a copy of your campaign so you can make a few minor modifications. Then, you can test the impact those changes have on conversions.
So you would start with a campaign like the one we showed earlier. Then run a test, and change one element, like the headline: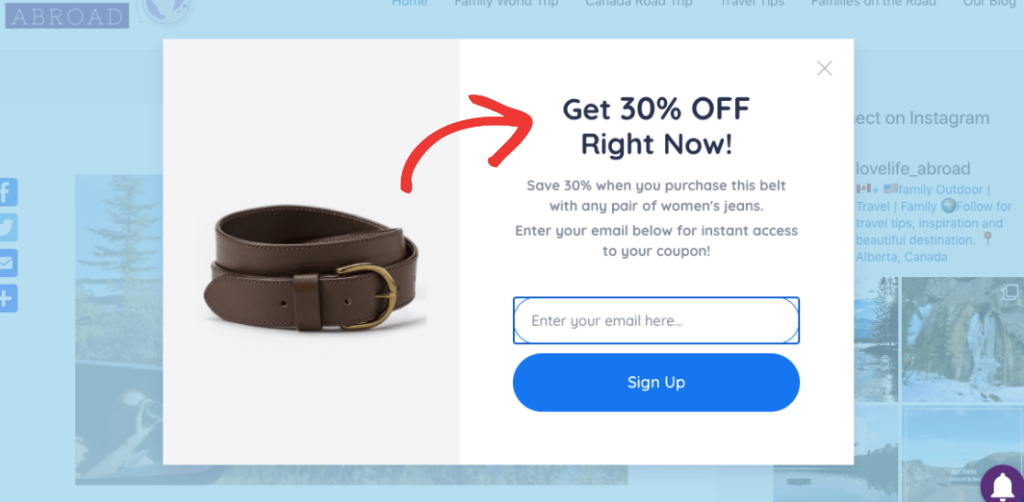 OptinMonster will take both campaigns and show them randomly to your site's traffic. After a few days of testing, you can see which one is performing better and get rid of the other.
This makes sure that you never have to wonder if you're getting as many conversions as possible. You can continue to test your campaigns over time and let the data tell you if any improvements need to be made.
But what happens if you ever feel stuck or you have questions about how to get the most out of your optin campaigns? That's where OptinMonster's support team comes into play.